Summary
We have partnered with a longtime client, Red Mountain Group, on many projects. Whether our client needs tenant improvements or new buildings within existing shopping centers, they rely on us.
Citrus Heights
Adaptive reuse of a former Kmart, a 90,000 square foot building. We converted it into a big-box retailer and a Studio Movie Grill.
Clovis Big Lots
Conversion of an existing big-box building and adjacent shops into a new tenant mix. Our services included exterior facade designs and space planning for multiple tenants.
Clovis Raising Cane's Chicken Fingers Entitlements
Red Mountain turned to us for entitlements for a new drive-thru on a corner pad of an existing shopping center. Our persistence and in-depth knowledge allow us to navigate the entitlements process efficiently.
Compton Retail Center
Three buildings on a newly developed, 2.5-acre site. Red Mountain needed to push the project through the local jurisdiction and keep construction on schedule during the planning and entitlements phase. The project was completed ahead of schedule due to our team's efficiency and knowledge of the local municipal codes, helping Red Mountain Group meet its goal.
Garden Grove Retail Center
Adaptive reuse of a vacant 90,000 square foot building that formerly housed a Kmart. Our work included schematic design, construction documents, bidding, and construction administration. Changes to the building included interior remodeling and modification of the exterior facade to become a new shopping center. When complete, the two featured storefronts were Gold's Gym and Smart & Final. We began our work on the shopping center in July 2016 and the project opened on schedule in April 2017.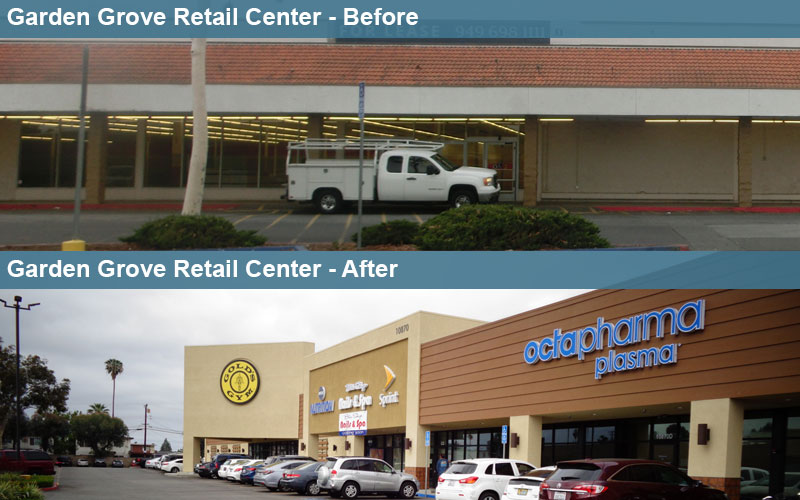 LaTijera Shopping Center
Learn more about our work on La Tijera Shopping Center in Los Angeles, CA—a 7.4-acre site with 100,000 square feet of ground-up projects and 60,000 square feet of renovations.
Additional projects:
35th & Peoria
Arden Fair Sears
Compton & Central
Continental Laundromat
Indio Marshalls
Indio Shops
Oxnard Starbucks
San Pablo Big Lots
Santa Ana Dentist
Stockton tenant